Hi, I'm Iljitsch van Beijnum, writer, freelance network engineer and PhD student. I'm from The Hague. Some of the blog posts here are in Dutch, others are in English. See BGPexpert.com for just work-related posts.
❝CGP Grey videos are now available in convenient video podcast form.❞
This is great. I love his videos, but hunting them down on Youtube is just too much work these days. With a podcast, watching/listening episodes in order (well, once you turn off all of this "newest on top" nonsense) is easy and new episodes automatically pop up. Youtube, on the other hand, seems to go out of its way to make it difficult to watch stuff in order and quickly find new stuff. Apparently, they really need you to go with the flow and just watch whatever video they feel should be next.
This is the link to the RSS feed and this the link on iTunes. Too bad the feed currently only has a single episode.
Permalink
- posted 2015-03-30
I honestly thought I knew pretty much everything there is to know about Apple's Keynote presentation program. I was wrong. I didn't know this:
❝When you want to join two objects with a line, the easiest way to do it is to use a connection line (rather than creating a separate line as a shape). Two objects joined by a connection line remain joined even if you reposition the objects on the slide canvas.❞
Read the article - posted 2015-03-30
After yesterday's post about the Dell P2415Q monitor, I wondered how many sheets of A4 paper fit on the screen. Answer: height-wise, it's a perfect match: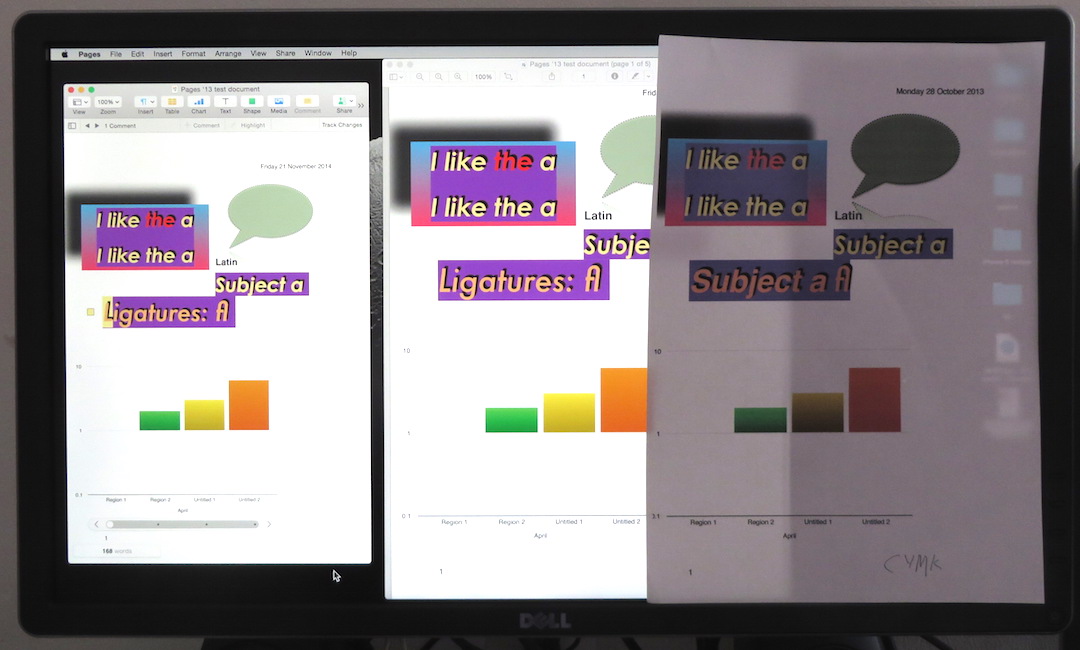 At 52 cm, you can fit almost 2.5 sheets side-by-side. Interestingly, Apple's Preview application (middle) knows the size of the screen, and PDFs zoomed to 100% are exactly the right size. Unfortunately, due to the menu bar, the title bar and toolbar, the A4 PDF won't completely fit on the screen and in full screen mode Preview zooms to 98%.
Pages (left) and Word, on the other hand, still operate under the delusion that screens have a resolution of 72 pixels/points per inch, and need to be set to about 130% zoom.
Permalink
- posted 2015-03-23
▶ A year and a half ago, in my review of the 2013 MacBook Pro, I wrote:
❝although it's great to be able to hook up two external displays, it's not so great to have to choose between the small, but high resolution internal display and the big, but low resolution external displays. I find myself working on the internal display a lot, but when I need more screen real estate I switch to the big external display. I sit relatively far from my external display, so the fuzzy pixels aren't too obvious. The high resolution display hasn't completely ruined regular displays for me, but it's certainly got me coveting an external 4k display.❞
4k displays have gotten pretty affordable now, do I decided to get one...
Full article / permalink
- posted 2015-03-22
Stadskajakkers
Image link - posted 2015-03-21
▶ A week ago, Apple unveiled the new MacBook. The crazy thing about this new computer is that it only has two ports: an audio port and a USB type C port for everything else. The audio port is like the one in the MacBook Pros: it looks like a regular 3.5 mm headphone port, but it also supports iPhone-style headphones with a microphone and clicker, and with the right adapter, it does optical digital audio out.
The USB-C connector is very interesting. It's backward compatible with old USB standards at 1.5, 12 and 480 Mbps with a simple adapter cable. It also supports USB 3 and 3.1 at 5 and 10 Gbps, and should be ready for even higher speeds in the future. Like Apple's lightning connector, you can plug it in in both orientations. USB-C can deliver up to 5 amps at 12 or 20 V for a maximum of 100 Watts—in either direction. Last but not least, the USB-C port allows many non-USB protocols to be transmitted over a USB-C cable. So with the right cable, a USB-C port can be used to connect a monitor over HDMI or DisplayPort. This uses wires normally used for 5 Gbps USB connectivity. Depending on how many wires are used for the alternate protocol, the USB speed may have to fall back to 480 Mbps.
Full article / permalink
- posted 2015-03-16