Posted 2015-10-24
There have been rumors for a while that Apple would be releasing new keyboards and/or mice and/or trackpads soon. The rumors were right: a week or two ago they released all three. I had actually been waiting for the new keyboards because the Apple wireless keyboard I got in 2008 no longer wants to pair with anything. So that one is a paperweight now. The big white one introduced in 2003 that I also have still works, but that one won't talk to iPhones or Apple TVs.
So enter the new keyboard, mouse, trackpad. So I went to www.apple.nl to check them out. And nearly fell off of my chair as I saw the prices: € 120 for the keyboard, € 90 for the mouse and € 150 for the trackpad. So that's 360 euros for all three. For 20 euros more you can buy a Dell Inspiron 15 3000 laptop!
To add insult to injury, the new laptop really isn't very good from the looks of it. I've heard some people comment that the new full-size left and right cursor keys are actually worse than the old half-height ones because now they're harder to identify by touch. The key travel is also quite shallow, shallower than that of the old one, I believe.
None of this would be a deal breaker by itself, as was looking for an extra keyboard, as I already have a big IBM Model M that covers my daily typing needs.
I had heard about Logitech bluetooth keyboards that will let you switch between three different paired devices quickly and easily before: the Logitech K810 illuminated keyboard for Windows and the Logitech K811 for the Mac. These get rave reviews. The K811 looks a lot like Apple's wireless keyboard, but adds backlighting like Apple's laptop keyboards have. At around 100 euros, this already looked like a much better deal than Apple's new wireless keyboard.
But it turns out there's now also the Logitech K380 multi-device keyboard. I got mine for € 50.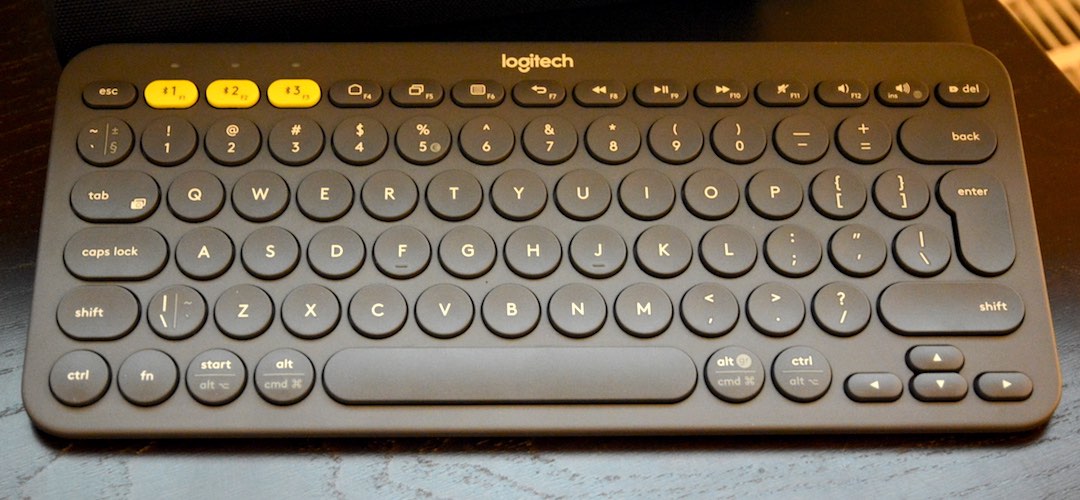 It comes in two colors: dark blue and dark gray. I got the dark gray one, which has three yellow keys that switch the keyboard between the three paired devices. Unlike the K810 and K811, one keyboard adapts to both the Windows/Android and Apple worlds. As such, the alt and command keys as well as the keys left of 1 and Z have white labels, which apply to Windows and Android, as well as gray ones, which apply to MacOS, iOS and the Apple TV. The keyboard automatically adapts to the type of device it's used with, there's no need to set up special key mappings.
Paired with a Mac, the keyboard layout is very close to that of Apple's wireless keyboard or a MacBook keyboard. The only real annoyance is that the control and fn keys are reversed. Other than that, the differences are found on with the function keys on the top row. I think F1 - F7 are all different from Apple's keyboards, but I can't be completely sure as those have been subject to change anyway, so no big loss there. F1 - F3 select the host device and F4 - F7 all have at least somewhat useful functions such as home and back on iOS and Mission Control on the Mac. From F8 to the right are the media keys. Interestingly, on Apple's keyboards these start at F7. However, the Logitech keyboard has one extra key, so the second key from the right is volume up on both the K380 and Apple's keyboards. On Apple's keyboards this would be F12 with the fn modifier key pressed, but on the Logitech this is the insert key under Windows and it triggers Spotlight on the Mac. The top right key is del (deletes to the right) rather than eject.
The keys are round, which is a bit strange, but typing on it is fine. Not great, but more than good enough. There's an on/off switch on the left side of the keyboard, along with a battery status light. The keyboard takes two AAA batteries, which are supposed to last two years. At 415 grams, the plastic K380 is actually a bit heavier than Apple's old metal one at 275 (around 350 grams with three AA batteries). For less than half the price this keyboard is much more useful than Apple's, because you can switch between three devices with just a keypress. Apple's is probably a bit nicer than the K380, but if you want a nicer keyboard then there's still the K811. I probably wouldn't use the K380 to type on all day, but as an extra keyboard to get at some extra devices quickly it works really well. (It's surprising how much more responsive the Apple TV is to bluetooth than to an infrared remote.)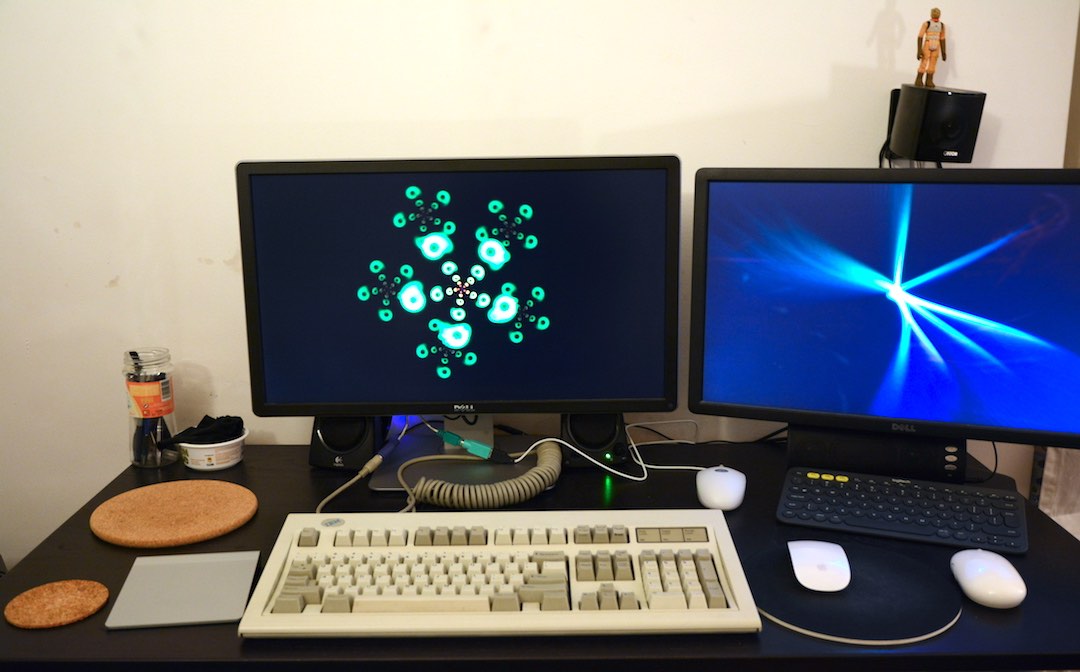 As I was ordering the K380, I also started to think about my mouse and trackpad. A year ago, I got the opportunity to use the magic mouse for a bit. For a long time, I've been using the mighty mouse, the one with the little trackball at the top. The problem is that the little ball that's used for scrolling gets dirty and then works unreliably. Cleaning it is really hard. The newer magic mouse fixes this by having a touch surface instead, which allows for swiping sideways or up/down to scroll as well as to swipe with two fingers to switch between spaces and tapping to zoom in Safari, similar to how tapping to zoom works on iOS.
So I got a magic mouse. For the most part, it's really nice, but it has a downside: it very easily registers unintended scroll events. This is rarely a big deal, except in applications or websites that use "scroll to zoom". Many mapping websites do this. Using the magic mouse with those is really annoying, as the maps keep zooming erratically unless you're really, really careful. It's also really easy to move various types of elements in Keynote when you only want to double click them.
I really don't need the gestures anyway, as I also have an Apple bluetooth trackpad on the other side of my keyboard. The trackpad allows more gestures than the magic mouse and it's also helpful to be able to "mouse" with whichever hand is free. So I got an old school Logitech mouse along with my Logitech bluetooth keyboard, with the idea that I'd use the Logitech wired mouse for mousing and the trackpad for gestures. However, I'm not sure that's going to work out, as the Logitech mouse tracking speed is way faster than that of the Apple mouse, but changing the tracking speed of one in the settings also changes that of the other. So switching back and forth is rather painful.
I guess I could also try to use the trackpad as my main external "mouse", but so far that hasn't felt natural... Not entirely sure why that is, because using the trackpad on a laptop is just fine. Perhaps it's because the cursor keys and numeric pad on the Model M push the trackpad too much to the side? It would be nice to have a Model M style keyboard without a numpad. Yes, a numpad is also good to have, but that could be a separate device that I can then move around as needed.