It's time for something new: after three years as a network architect at Logius, I'm going back into business for myself.
I'm going to focus on providing advice about connectivity to the internet to organizations for which an internet connection is a critical asset.
What are the limitations of BGP, DNS, IPv4/IPv6, TCP?
How do you work around those limitations?
How does interconnection between the backbones of different operators work, technically and business-wise?
What does this mean for procuring hosting and connectivity?
Is it worthwhile to do your own peering, directly or over internet exchanges?
Watch this space for more information!
Permalink
- posted 2019-02-28
Het is tijd voor een nieuwe uitdaging: na drie jaar als netwerkarchitect bij Logius begin ik vanaf 1 maart weer voor mezelf.
Hierbij richt ik me op het adviseren over connectiviteit naar het internet aan organisaties waarvoor een internetverbinding een kritisch bedrijfsmiddel is.
Wat zijn de beperkingen van BGP, DNS, IPv4/IPv6, TCP?
Hoe werk je om die beperkingen heen?
Hoe werkt de interconnectie tussen de backbones van de verschillende operators, technisch en zakelijk?
Wat betekent dit voor het inkopen van hosting en connectiviteit?
Is het nuttig om zelf peering te doen, direct of over internet exchanges?
Hou deze plek in de gaten voor meer informatie!
Permalink
- posted 2019-02-28
How much bandwidth do I need? Always a hard question. It gets harder as you use more network links, and have to start considering what happens when one or more links fail, leaving you with reduced bandwidth.
The simple way to determine how much total bandwidth you need is to make a guess, and then adjust until the peaks in your bandwidth graphs stay below the 100% line. The more complex answer is that it depends on the bandwidth elasticity of the applications that generate your network traffic.
Applications are bandwidth elastic (sometimes known as "TCP friendly") when they adapt how much data they send to available bandwidth. They're inelastic when they keep sending the same amount of data even though the network can't handle that amount of data. Let's look at a few examples in more detail.
I'm assuming the bandwidth need throughout the day shown in this graph:
Between 21:00 and 22:00, normal bandwidth use reaches a peak of just over 80% of available capacity. But now we lose 25% of our bandwidth, so we have a higher bandwidth need than we can accommodate between 18:00 - 19:00 and 20:00 - 22:00, shown in red below: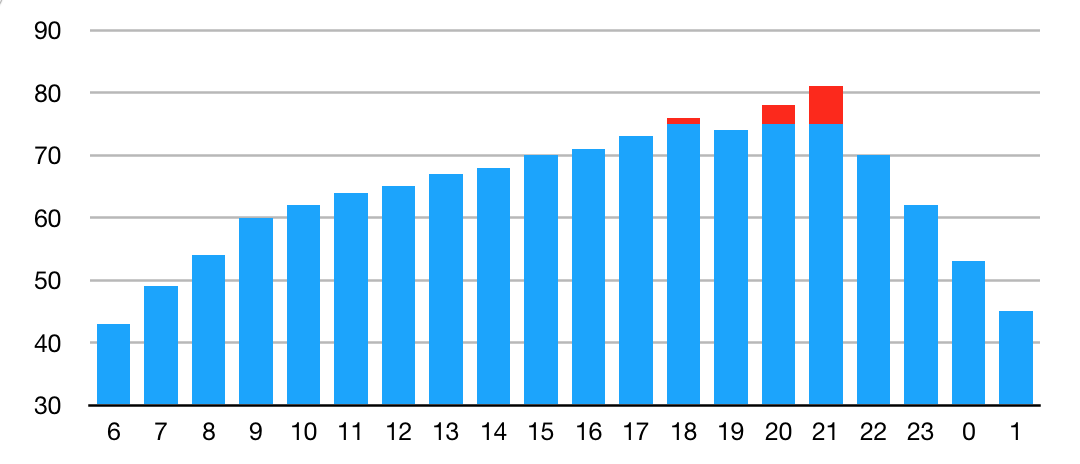 Let's look at the behavior of applications with different bandwidth elasticity.
Read the article
- posted 2019-03-18